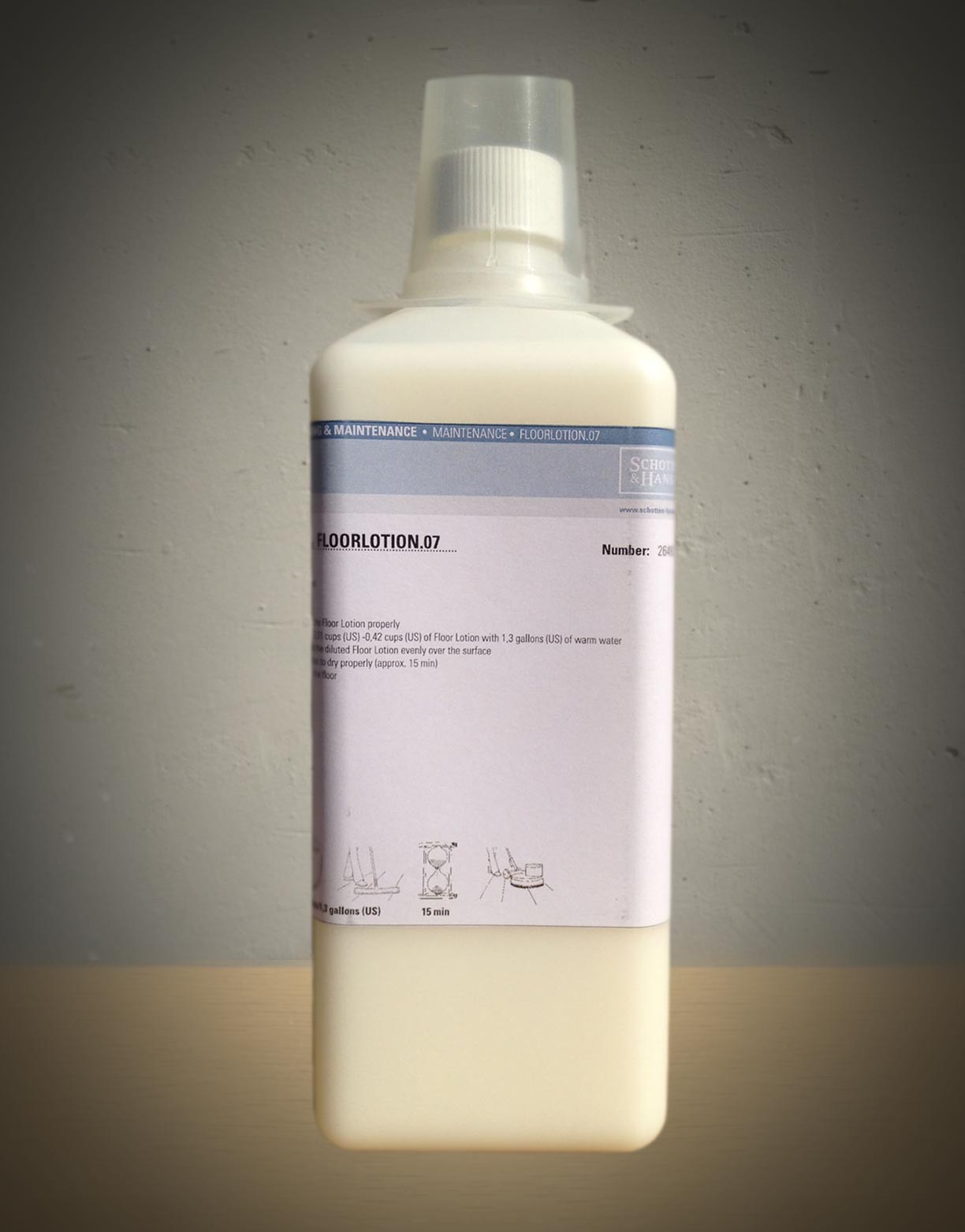 Download Instructions
MAINTENANCE OF SCHOTTEN & HANSEN HARDWAX OILED FLOORS:
Keep grit off the floor.
Dust mop or vacuum regularly and keep doormats clean.
Wipe up spills promptly with a dry cloth.
Use a slightly dampened cloth for sticky spills.
For general weekly or periodic cleaning, mix a third of a cup of Schotten & Hansen Floor Lotion with a gallon of warm water. Shake the product well prior to mixing. Spread the diluted Floor Lotion evenly over the surface. Always make sure that you wring out the applicator well in order to avoid excessively wetting the floor. Avoid penetration of water into joints of floor boards. Let the floor dry properly for about 15 minutes. Polish the floor with the grain, using a polishing pad applicator or a light buffer. You can also use a spray bottle and spray small amount of a diluted cleaner on mop or cloth, and wipe small section of floor. Buff dry. Continue until entire area has been cleaned.
HARDWAX OILED FLOORS REQUIRE PROFESSIONAL ANNUAL MAINTENANCE OF AT LEAST MAIN TRAFFIC AREAS. PLEASE CALL US TO INSPECT YOUR FLOORS ANUALLY AND TO ASSIST YOU WITH NECESSARY RECOATS.
PREVENTION
Use only proper floor care products
Place mats at doorway exteriors to minimize trucking of grit, dirt and sand
Wipe all spills immediately
Put fabric or plastic- faced glides under the legs of furniture, to prevent scuffing and scratching.
Cleats, high heels can dent any floor surface!
Do not slide heavy pieces of furniture on the floor
For wood flooring in the kitchen, place an area rug in front of the kitchen sink.
For additional information or
to request an appointment, please email us.
Hardwax Oiled Floors